Building great experiences is no small task. You never know where to start and how to go about it. In this article, we will talk about the first 3 steps to create a relevant graphic identity for your brand.
You will gain an all-round understanding of all the graphic elements that make up a website while acting as an independent designer.
Quick overview

We're going to share part of the work process that gets the basics in place when you create a brand image. We will start with the concept, then the photography and finish with the typography.
Building a memorable experience takes time and discipline. We will determine an artistic direction for a brand created from scratch.
We will also show how Design acts as a link between the different disciplines used in a creative process.
Then, you can implement this new identity by creating your own blog from scratch. Finally, discover the basics of SEO by following our customized guide.
A pitch, a graphic identity
In this article, we're going to create the foundation for a fictional blog called SENZU that will be about crypto. We draw our inspiration from nature, softness and multiple colors. The themes are quite varied and are adapted according to the seasons of the year.
We will start by collecting several references, creating a moodboard and setting up the art direction to lay the foundation. Make yourself comfortable, the fun can begin !
Inspiration

First of all, know that there is no best way, only your way of creating. In other words, you don't need to look for best practices to build your brand. The important thing is to find the method that suits you and with which you can excel.
The first thing we're going to talk about is tips for finding inspiration. When creating a visual identity, you never know where to start and what direction you will take.
How to find your inspiration

This is a really interesting topic as inspiration seems a bit taboo in the creative sphere. A lot of designers have impostor syndrome and literally get stuck at this crucial stage.
We are continually inspired by the things around us and this allows us to evolve. So much so that there is no longer a point of origin, we lose our bearings as we go. Each thing is in some way a copy of something else which is itself a copy of something else.
However, inspiration is actually a foundation of evolution, the continuity of this creative ecosystem. Our ideas come precisely from this conceptual cascade which allows each designer to have his own interpretation of a project.
The inspiration is translated into 3 main axes:
○ The personality
○ The research
○ Project inspiration
The personality

The inspiration for a project can be dictated by something unique to you. It is forged from who you are, what kind of music you like to listen to, what kind of movies you watch, what art you consume, what books you read and all those things that have been added to your personality over time and through your experiences.
Determining who you are, what types of activities you do results in a layer of inspiration that is unique to you. It will lead to the beginnings of your projects.
It is a very abstract way of being inspired and allows you to push up whatever project you are working on. However, it can also pull it down depending on the percentage of personality you put into it. It's all about balance.
The research

There is a step between personal inspiration and purely project-oriented inspiration. As designers, we are always looking for inspiration. We scour Behance, Dribbble and Pinterest for suggestions.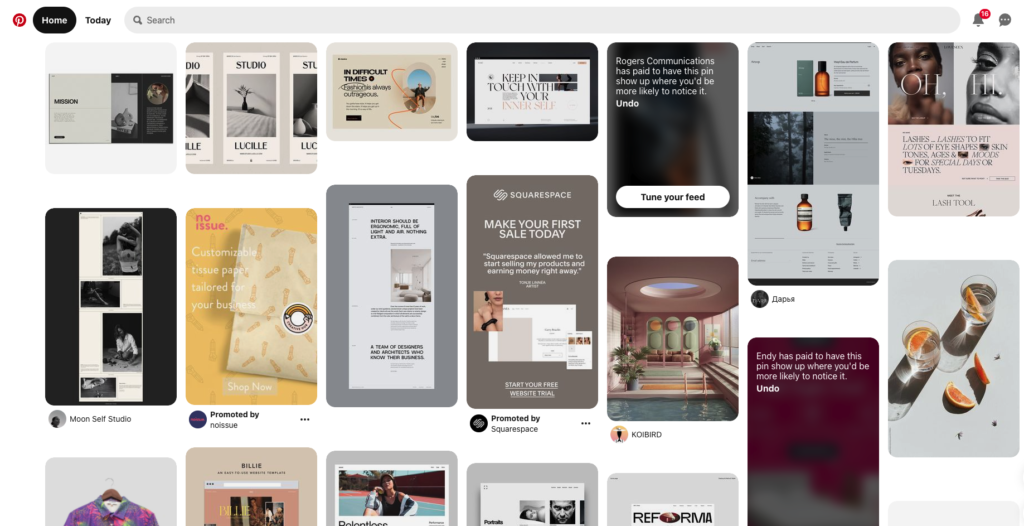 We are constantly inspired by talking to people. If you look at the inspiration process as a funnel with which you formulate your recipe, it will allow you to reach a level of creativity that is satisfying for you.
Inspiration for projects

We will focus on the project inspiration part. To start, you could create a card on which you will add a selection of books, movies, album covers and anything else that might be relevant to your new project.
As a reminder, our project consists of the creation of a magazine on the theme of crypto and investments. Its objective is to help novices to learn more about a field that is slowly emerging.
Strategic research was focused on a natural environment. First, you need to think about where your brand is coming from, what you are trying to do with this project. Then you can focus on the graphic structure and how you want to model it.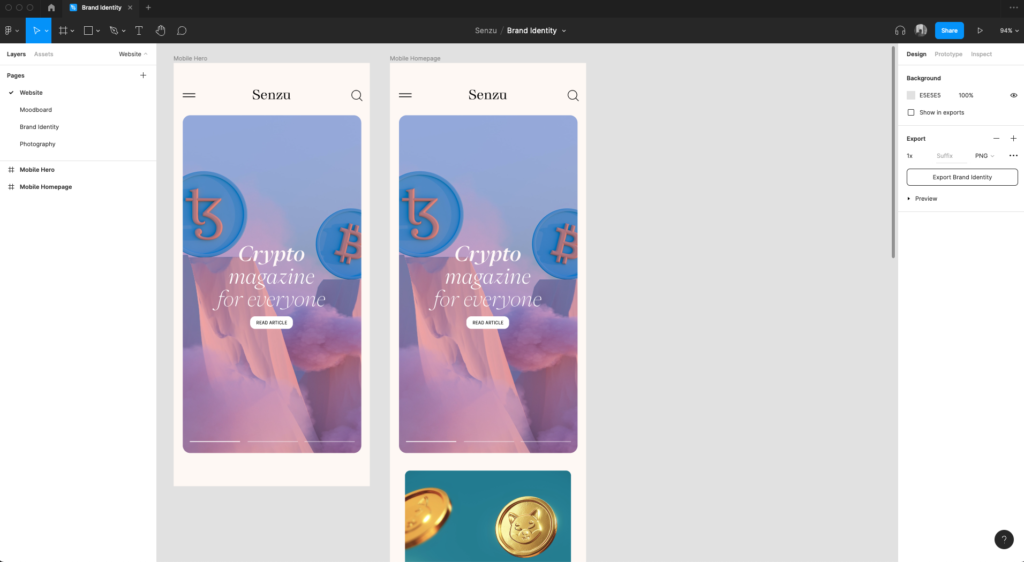 You will find inspiration in posters, websites and other visual styles. This is the first strategic step related to an exploratory phase in which you will find the right inspiration for your project.
Images & Photography

In this project we get some royalty free images for the exercise and we will create some as well. To get an idea of what we like, we create a moodboard in Figma with examples of imagery that match the current project.
We use different platforms to find artistic directions close to the idea we have of our project. Then we use Figma to place our ideas and make the whole thing a bit more visual.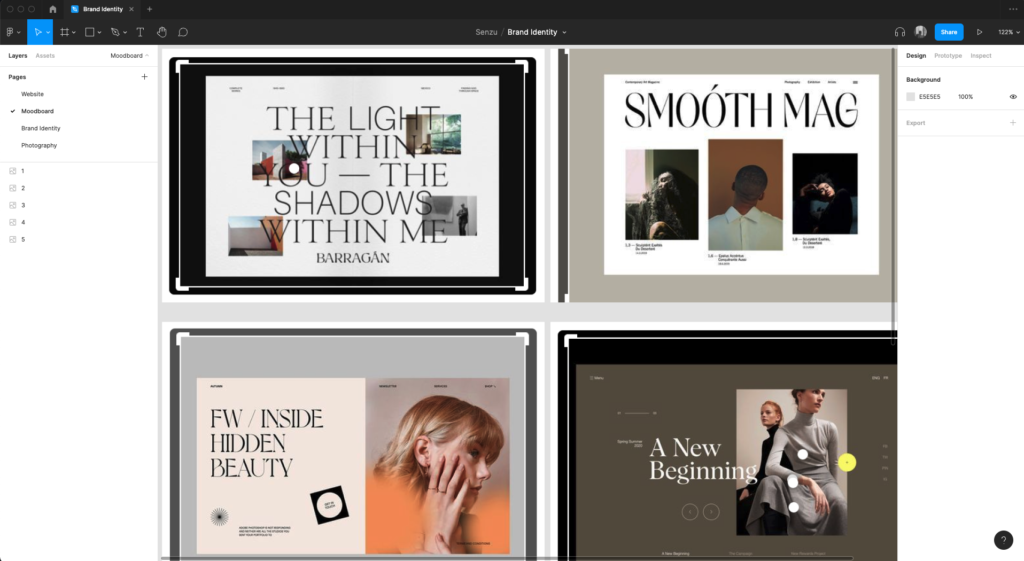 For this particular project, Pinterest was a great source of inspiration. We also searched by keywords like "Serif" and started with tiles whose typography we liked.
The advantage with this social network lies in the references that are offered to you after selecting a tile. You can start taking screenshots of what you like and import them into Figma. You will also be able to see animations and quickly start creating your moodboard with ease.